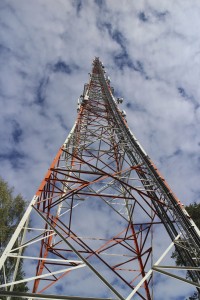 At FiberPlus, one of our main services has become distributed antenna systems. We provide distributed antenna systems for a number of different markets; however some potential customers are not sure as to what these systems are and what they provide.
Distributed antenna systems include a network of antennas installed throughout a building to help improve and extend wireless coverage within a building. The network of antennas is meant to serve as repeaters to help improve the coverage. These antennas are connected to a central controller physically, which can then become connected to your wireless carrier's base station. Customers must keep in mind that in order to use distributed antenna systems, a wireless carrier of some kind must be notified and involved. This is because the networks run on a RF spectrum that is licensed to carriers.
Distributed antenna systems can provide data services as well as voice services to mobile devices because the systems are transparent. Some indoor spaces that would benefit from these systems include high-rise buildings, shopping malls, and medical centers. If your establishment relies on cellular service, then distributed antenna systems should be considered. These systems will help ensure that your business continues to receive and experience reliable cellular service and coverage.
FiberPlus has been providing data communication services for a number of different markets through fiber optics since 1992. What began as a cable installation company for Local Area Networks has grown into a top telecommunications business that can provide the Richmond, VA, Baltimore, MD, Washington DC, and Northern Virginia areas with a number of different services. These services now include:
Structured Cabling
Electronic Security Systems
Distributed Antenna Systems
Audio/Visual Services
Support Services
Specialty Systems
Design/Build Services
FiberPlus promises the communities in which we serve that we will continue to expand and evolve as new technology is introduced within the telecommunications industry.
Have any questions? Interested in one of our services? Call FiberPlus today 800-394-3301, email us at info@fiberplusinc.com, or visit our contact page.
Do you enjoy clicking "Like" and "Follow?" Be sure to click on our official Google+, Pinterest, Facebook, Twitter, and LinkedIn pages today!