Emergency Alert Systems

FiberPlus installs and maintains emergency alert systems. Emergency alert systems are normally located in public areas where police, fire departments, or security can be reached immediately to respond to an emergency situation. FiberPlus has installed emergency alert systems on college campuses, in stairwells, public swimming pools, exercise rooms, parking lots, and garages. They are normally a tall stand alone stanchion or wall-mounted unit.
Some of the general features are:
They are brightly painted so they can be spotted easily.
They have a "mash button" that when pushed establishes a hands-free two-way communication with the responding authority.
When the button is pushed, it also activates an emergency beacon on top of the unit that is easily spotted and attracts attention.
Some units also contain cameras so that the immediate area can be viewed by the responders.
They must be waterproof and weatherproof requiring regular inspection and maintenance.
They can also have large outdoor speakers so that multiple units can be used to announce emergency situations as they occur.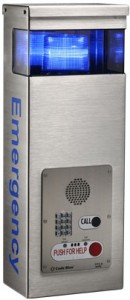 These units have multiple methods for power and communication. Wherever possible, the unit should be powered locally from a 120volt power source and should be connected to a local phone line. Where this is not possible or practical, a unit can be powered by batteries that are charged by solar panels. Communications can be established by cellular or radio signal.
Most units are part of a larger system design that is observed and connected to a central police or security office. When a unit is activated, the location is brought up on a bit map of the covered area. In private community exercise facilities and pools, they are recommended and sometimes required to have a unit that will immediately connect the unit to 911 to expedite emergency calls.
When making a selection, be sure to hire an integrator like FiberPlus who is reliable, can install the units successfully, and maintain them properly through the years.