Distributed Antenna Systems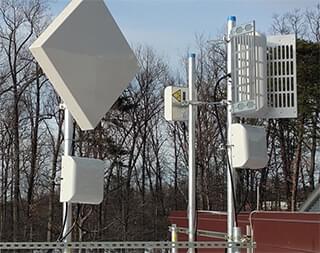 Modern construction materials, such as those used in LEED certified buildings, have the capability to block and otherwise degrade both internal and external wireless signals. These wireless signals use licensed radio frequencies and are blocked in much the same way as the sun's radiating energy. Distributed antenna systems, otherwise known as DAS or "in-building radio signal amplification," are designed to extend wireless coverage inside buildings and structures to allow radio and cellular communications devices to function. This is most important when it comes to the radio systems used by fire departments, police, and other first responders.
With the advent of the first Blackberry devices, wireless communication became ubiquitous. Now with the proliferation of Android and IOS devices being used throughout business and government, the requirement for stable and reliable cellular service from the various regulated carriers has become a de facto requirement for buildings. Today's modern buildings use various materials to ensure energy efficiencies. These include various new types of insulation and coatings on exterior windows to block the sun's heat. These same materials also inhibit the introduction of radio frequencies used by the major mobile carriers to provide service to their customer's devices.