Audio/Visual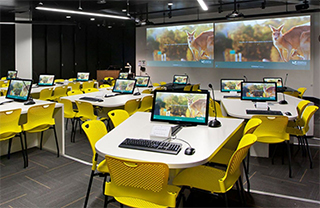 Audio-visual systems are an indispensable technology in commercial and government facilities. Audio-visual systems can provide high-quality multimedia content for many different applications, such as:
Video teleconferencing
Display systems and digital signage
Intercommunications systems
Sound reinforcement or public address
Video teleconferencing (VTC) allows groups of people to collaborate all over the world. VTC consists of speakers, microphones, displays, and control hardware. Video teleconferencing is crucial in meeting rooms, boardrooms, and remote classrooms. As part of a unified technology solution, FiberPlus can install video teleconferencing systems.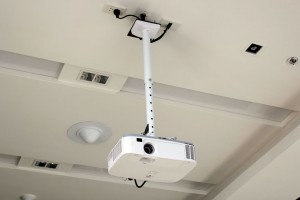 Displays are ubiquitous in our modern world; whether using a display to show television, movies, computer games, or digital signage, you can seldom enter a room without some sort of display. Depending on the required solution, displays can be mounted on walls, hanging from ceilings, or even outdoors. FiberPlus can identify and install the needed cabling and mounts for your display needs.
Intercommunications (intercom) systems allow two-way communications throughout a building or campus. With the aid of our strategic partners, FiberPlus has installed many intercommunications systems, mainly in schools.
Sound reinforcement or public address amplifies sound to distribute information to a large or distant audience. Sound reinforcement is essential in classrooms, churches, and auditoria. FiberPlus installs sound reinforcement in many classrooms throughout Maryland.
FiberPlus provides technology solutions for government customers at the federal, state, and local levels, as well as for commercial government contractors, hospitals, universities, and other commercial and retail organizations.
FiberPlus can provide a turn-key, fully integrated technology solution including telecommunications, data networking, security, CATV, wireless, intercommunications, audio-visual, and even custom peripheral solutions such as lighting, controls, and aesthetics.
HDBase-T Specifications
The Institute of Electrical and Electronics Engineers (IEEE), along with the HDBase-T Alliance, has jointly announced that the IEEE Standards Association Standards Board approved the HDBase-T Specifications 1.1.0 and 2.0. The HDBaseT standard will become the IEEE 1911 standard once the adoption process is complete.
HDBaseT is a standard for the delivery of uncompressed, ultra-high-definition multimedia content, for home or commercial installations over a single, CAT-6 UTP cable at distances of up to 100m/328ft.
The cornerstone of HDBaseT technology is the 5Play feature set that includes five features enabled and delivered by HDBaseT, namely:
Audio & video (including emerging ultra-high-definition (4K) uncompressed video, and compatibility with all HDMI 2.0 features with zero latency or compression)
100BaseT (100Mb Ethernet capabilities, including Ethernet fallback)
USB 2.0 (enabling functionalities such as keyboard, video & mouse (KVM), touch screen, mass storage devices, smartcards etc.)
Control signals (including CEC, RS232, USB, IR to control, monitor and operate remote equipment)
Up to 100W of power using power over HDBaseT (PoH)
FiberPlus can deploy this technology to reduce costs and simplify new and existing AV installations in homes, office conference rooms, and school classrooms.