Central Station UL 2050 Installation & Monitoring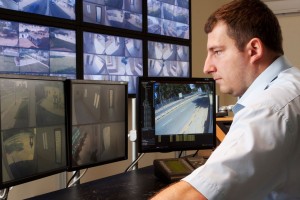 FiberPlus is a designated CRZH certified UL2050 installer that also provides central station monitoring to all ICD 705 intrusion detection systems. This means that we have been tested and approved by Underwriter's Laboratory to design and install intrusion detection Industrial Security alarm systems according to the UL681 and ICD 705 standards. Part of that requirement is to provide encrypted alarm signal central station monitoring as a monitoring dealer.
There are three areas to consider for each system: intrusion detection, alarm signal processing, and alarm signal monitoring. All three areas must be designed and installed according to the new ICD 705 standards that replaced the DCID 6/9 in 2012. Intrusion detection is to install devices that will detect the attempted penetration of a designated SCIF (Sensitive Compartmented Information Facility) where SCI (Sensitive Compartmented Information) is being stored or processed. According to UL681 standards, all perimeter walls, doors, and windows must be monitored for intrusion detection when the system is armed. The educated placement of ceiling mounted motion detectors, passive infrared motion detectors, and Class II door contacts will help prevent unwanted intrusion. These detection devices and their tamper devices are all wired directly back to the alarm panel or CPU as separate alarm zones.
The alarm panel or CPU (Computer Processing Unit) processes the signals as alarms and generates an encrypted alarm signal back to the central monitoring station via network connection. A network connection is required to encrypt the alarm signal to a 128 or 256bit encryption level. This cannot be done over a telephone line. The alarm panel connectivity is also monitored to insure constant connection with the central station. The panel door and the panel wall fixation is also monitored to generate an alarm signal for attempted opening or removal.
The central monitoring station must be Department of Defense approved with a CRZM designation. It has to be manned constantly by Top Secret cleared operators who are familiar with the required rules for responding to a UL 2050 alarm signal. When an alarm signal is detected from the alarm signal decryption receiver, the operator must respond to the designated alarm respondent within 90 seconds according to the approved customer alarm protocol. This protocol is set up with the central station via the alarm dealer that designates whom should be called and in what order when setting up the system.
Finally, all UL 2050 systems must have reports generated and reported to the customer and alarm dealer that records alarms, openings, and closings, as well as system integrity including trouble signals and loss of communication with the panel. These reports are required by the customer for their DSS inspections and by the dealer for their annual UL inspection. The dealer must provide a four hour response when the alarm system needs repaired or a false alarm signal is generated.
All of these systems and protocols are set up to protect the SCIF space from unwanted penetration in order to safeguard the SCI material inside.