Data Center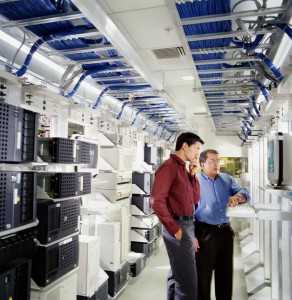 FiberPlus can provide a valuable service to your Data Center design and installation project. Our engineers can provide guidance and support when choosing the type(s) of cabling and pathways for the telecommunications systems. We can be flexible with pathways (under-floor or overhead) and cabling styles (pre-terminated systems or field terminated systems). We can also make suggestions on the latest in high-density technologies, which can help to reduce space and cooling requirements.
Planning and coordination are the two most vital aspects for the successful installation and implementation of a Data Center. A fully functional Data Center will be supported by a mechanical system, an electrical system, a fire-protection system, various levels of security systems, proper management practices and procedures, a fully developed maintenance plan, and of course, the telecommunications systems. Each of these systems will need to be designed to accommodate your organization's needs and interoperate efficiently with the rest of the facility. Planning and coordination are crucial!
FiberPlus can provide assistance with your organization's existing Data Center. From cabling upgrades, additions, or reconfigurations, FiberPlus has the experience and expertise to fit your needs.