Passive Optical Network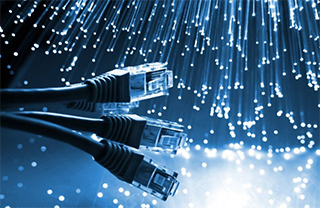 Bandwidth demands in both enterprise and residential broadband access networks have been increasing drastically primarily due to multimedia services, particularly those delivered over the Internet.
In recent years, passive optical networks (PONs) have developed into an attractive approach to deliver broadband services to a large number of subscribers, particularly in large campus and in multi-tenant residential and hospitality environments.
Conventional PON has evolved to carry two-way broadband interactive data signals. This capability is increasingly recognized as an effective, cost-efficient method of meeting the bandwidth demands of today's network users. With the recent availability of low-cost optical components using the wavelength division multiplexing (WDM) technique, PON has been emerging as the next generation optical access network.
In a typical PON, services are originated from the optical line terminal (OLT) at a head-end and carried along an optical fiber. The optical power is split into multiple output distribution fibers via an optical power splitter located at the remote node (RN). Each distribution fiber forwards the services toward the destined optical network terminal (ONT), usually located in close proximity to end-user equipment. At the ONT, the optical signal is further distributed to all the users' devices that are attached to this ONT via other media, such as Twisted Pair copper, Coax, etc.
In existing buildings, voice, data, and CATV cabling infrastructure is often able to be migrated to a PON. In new facilities, the fiber optic backbone is typically less expensive, faster to deploy and easier to manage than older legacy systems.
FiberPlus offers services to our clients to design, install and commission PONs including the head-end (OLT), splitters, ONTs and distributed and backbone optical fiber. These services are provided by our installation and Design/Build professionals in collaboration with leading industry-recognized integrators and distributors. FiberPlus can help evaluate our clients' requirements for distributed bandwidth, network management and survivability of their networks to determine if a PON solution is a practical solution.