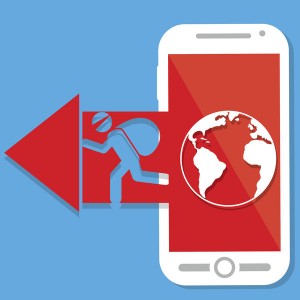 While we have discussed from time to time the threat of hackers on your computer network, we haven't yet discussed the potential for hackers to access your business phone system. While we most commonly think about hackers using computer networks and credit card machines to gain access to our information, we very rarely consider the possibility that hackers can use our business voicemail and phone system to cause our business harm. Phone lines and voicemails can be left vulnerable to hackers, which can cause just as much damage to your business as a computer hack.
So how can a business owner protect their phone system?
Use a secure voicemail password. Always change the password from the manufacturer setting and always use at least six digits. The numbered code should never resemble the phone number of the business and it should be changed every six months to a year, or whenever a staff member is let go.
Be mindful when using the call forwarding application on your phone system. While this can be helpful when spending time out of the office, having calls sent to an international number can leave your lines open to hackers.
If possible, implement a lockout when accessing voicemails. Instead of allowing a code to be entered numerous times until it's right, only allow two or three attempts before the individual is locked out. In some cases, you can even be notified if there was a failed attempt made.
If possible, implement a feature that prevents an international call from being placed through your phone system unless specific permission has been granted.
FiberPlus has been providing data communication services for a number of different markets through fiber optics since 1992. What began as a cable installation company for Local Area Networks has grown into a top telecommunications business that can provide the Richmond, VA, Baltimore, MD, Washington DC, and Northern Virginia areas with a number of different services. These services now include:
Structured Cabling
Electronic Security Systems
Distributed Antenna Systems
Audio/Visual Services
Support Services
Specialty Systems
Design/Build Services
FiberPlus promises the communities in which we serve that we will continue to expand and evolve as new technology is introduced within the telecommunications industry.
Have any questions? Interested in one of our services? Call FiberPlus today 800-394-3301, email us at info@fiberplusinc.com, or visit our contact page.
Do you enjoy clicking "Like" and "Follow?" Be sure to click on our official Google+, Pinterest, Facebook, Twitter, and LinkedIn pages today!