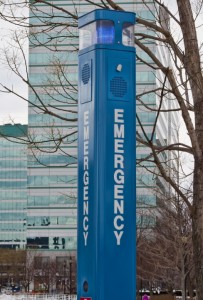 FiberPlus prides itself on creating distribution relationship with a number of different manufacturing companies in order to provide our customers with the highest quality of equipment. One of our partnered companies, Code Blue, just recently launched a new website which prompted us to highlight our partnership and the products we can offer from Code Blue.
Code Blue has been a leader in emergency communication solutions for the past twenty five years. Their emergency phone stations can be found in thousands of different locations including education, hospital, corporate, and airport areas. Their product categories can be described as follows:
Incident Response- These products help to deliver alerts surrounding emergencies, weather, and fire over several platforms including audio, messaging, and visual. These alerts tend to be sent out through desktop popups, text messaging, public speakers, and standard email. Their systems also offer a web tool that allows the sending and receiving of alerts through a third party system. These platforms include digital signs, fire panels, video management, mobile applications, and access control.
Emergency Signaling- With fifteen models to choose from, emergency phones are made to be powerful, clear, reliable, and durable. Some products available include: analog phones, IP phones, lighting, and public address.
Help Points- Over 25 different models and 6 different product lines fall underneath this category. Each product is created to be visible and customizable for the location it's installed for. Product lines can include pedestals as well as pole and wall mounts.
Systems Management- ToolVox operating systems can help management keep track of different statistics as well as register different devices, produce notifications, monitor the health of your devices, and even schedule needed maintenance.
To learn more about Code Blue, check out their new website now.
FiberPlus has been providing data communication services for a number of different markets through fiber optics since 1992. What began as a cable installation company for Local Area Networks has grown into a top telecommunications business that can provide the Richmond, VA, Baltimore, MD, Washington DC, and Northern Virginia areas with a number of different services. These services now include:
Structured Cabling
Electronic Security Systems
Distributed Antenna Systems
Audio/Visual Services
Support Services
Specialty Systems
Design/Build Services
FiberPlus promises the communities in which we serve that we will continue to expand and evolve as new technology is introduced within the telecommunications industry.
Have any questions? Interested in one of our services? Call FiberPlus today 800-394-3301, email us at info@fiberplusinc.com, or visit our contact page.
Do you enjoy clicking "Like" and "Follow?" Be sure to click on our official Google+, Pinterest, Facebook, Twitter, and LinkedIn pages today!