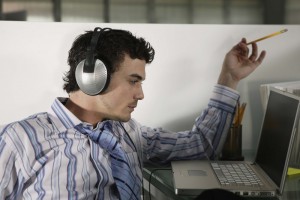 Sound masking is a term that is frequently heard around different office spaces, but is not a term that is always understood. In order to benefit from sound masking, there needs to be a better understanding of what sound masking it is and how it works.
How does sound travel?
                Sound travels in waves that vibrate off of a material, like a liquid, solid, or gas. While sound can be absorbed or blocked, not all sound can be completely blocked or removed once created. This explains why voices can still come through walls, but not completely legibly.
What is sound masking?
Sound masking adds a background sound that is unobtrusive that works to reduce the sound of speech. The result is a quieter, more productive environment within the workplace. A series of speakers are used to create another sound that has been created electronically to cancel out the noise of your surroundings. It works to override the noise without being loud and noticeable on its own.
How can you create an acoustic environment?
To help with sound masking in your office space, you can also work towards creating an acoustic environment. An ideal environment tends to be designed to help cover, block, and absorb outside sound. These three components working together in a fluid design can help with sound masking and reducing sound distractions.
How effective is sound masking?
Statistics have shown that sound masking can help with the following:
Performance– Studies show a 10% increase in overall office performance after sound masking.
Privacy– Sound masking is known to help increase privacy from a low 35% to 90%.
Comfort– Workplace discomfort is caused mainly by distracting sounds according to 48% of individuals surveyed during a study.
FiberPlus has been providing data communication services for a number of different markets through fiber optics since 1992. What began as a cable installation company for Local Area Networks has grown into a top telecommunications business that can provide the Richmond, VA, Baltimore, MD, Washington DC, and Northern Virginia areas with a number of different services. These services now include:
Structured Cabling
Electronic Security Systems
Distributed Antenna Systems
Audio/Visual Services
Support Services
Specialty Systems
Design/Build Services
FiberPlus promises the communities in which we serve that we will continue to expand and evolve as new technology is introduced within the telecommunications industry.
Have any questions? Interested in one of our services? Call FiberPlus today 800-394-3301, email us at info@fiberplusinc.com, or visit our contact page.
Do you enjoy clicking "Like" and "Follow?" Be sure to click on our official Google+, Pinterest, Facebook, Twitter, and LinkedIn pages today!
Source:
http://goo.gl/2NcQax