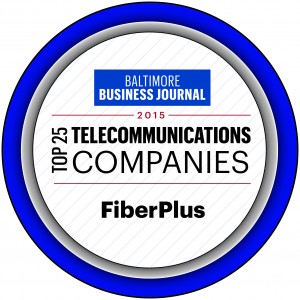 FiberPlus works hard to create and uphold our professional and positive reputation. Our hard work continues to pay off as we celebrate two of our latest accomplishments.
Baltimore Business Journal
For the third year in a row, FiberPlus has been named one of the Top 25 Telecommunication Companies in Baltimore by the Baltimore Business Journal. The publication is available both in print and online and covers a wide variety of business industries throughout the greater Baltimore area. The journal falls under the American City Business Journals, who provides almost 40 different city publications. The acknowledgement from the publication only provides more evidence of the dedication FiberPlus has to the telecommunication industry.
Excellence in Education
FiberPlus was recently presented with the 2015 Business Partnership Award through the Annapolis and Anne Arundel County Chamber of Commerce. The award was presented to FiberPlus because of the work done to help support the schools within Anne Arundel County. FiberPlus was nominated for the award by Chesapeake High School's Information Management Signature Program facilitator. The company has partnered with the school and the community for over a decade to create mock interviews and to act as guest speakers for the students. FiberPlus has also become a great learning environment through internship programs and the FiberPlus CEO, Carl Strobel, has dedicated a number of hours to the schools throughout the community.
Getting Started with FiberPlus
FiberPlus has been providing data communication services for a number of different markets through fiber optics since 1992. What began as a cable installation company for Local Area Networks has grown into a top telecommunications business that can provide the Richmond, VA, Baltimore, MD, Washington DC, and Northern Virginia areas with a number of different services. These services now include:
Structured Cabling
Electronic Security Systems
Distributed Antenna Systems
Audio/Visual Services
Support Services
Specialty Systems
Design/Build Services
FiberPlus promises the communities in which we serve that we will continue to expand and evolve as new technology is introduced within the telecommunications industry.
Have any questions? Interested in one of our services? Call FiberPlus today 800-394-3301, email us at info@fiberplusinc.com, or visit our contact page.
Do you enjoy clicking "Like" and "Follow?" Be sure to click on our official Google+, Pinterest, Facebook, Twitter, and LinkedIn pages today!
Sources:
https://www.fiberplusinc.com/news-events/fiberplus-named-one-of-baltimores-top-25-telecommunication-companies-for-2015
https://www.fiberplusinc.com/news-events/anne-arundel-county-2015-excellence-in-education-awards/
http://www.bizjournals.com/baltimore/about-us/